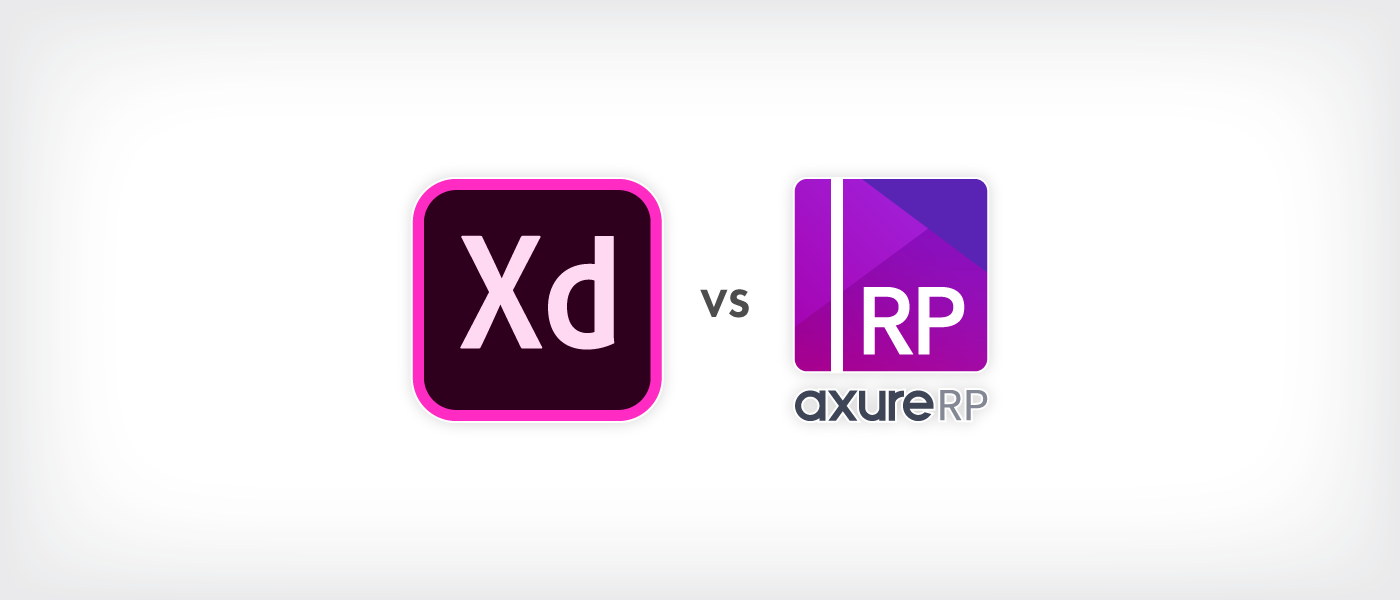 Produce an interactive prototype that accomplishes the goal of signing in or signing up for the fictional application, Appy. Be sure to Include failure states and purposeful animation.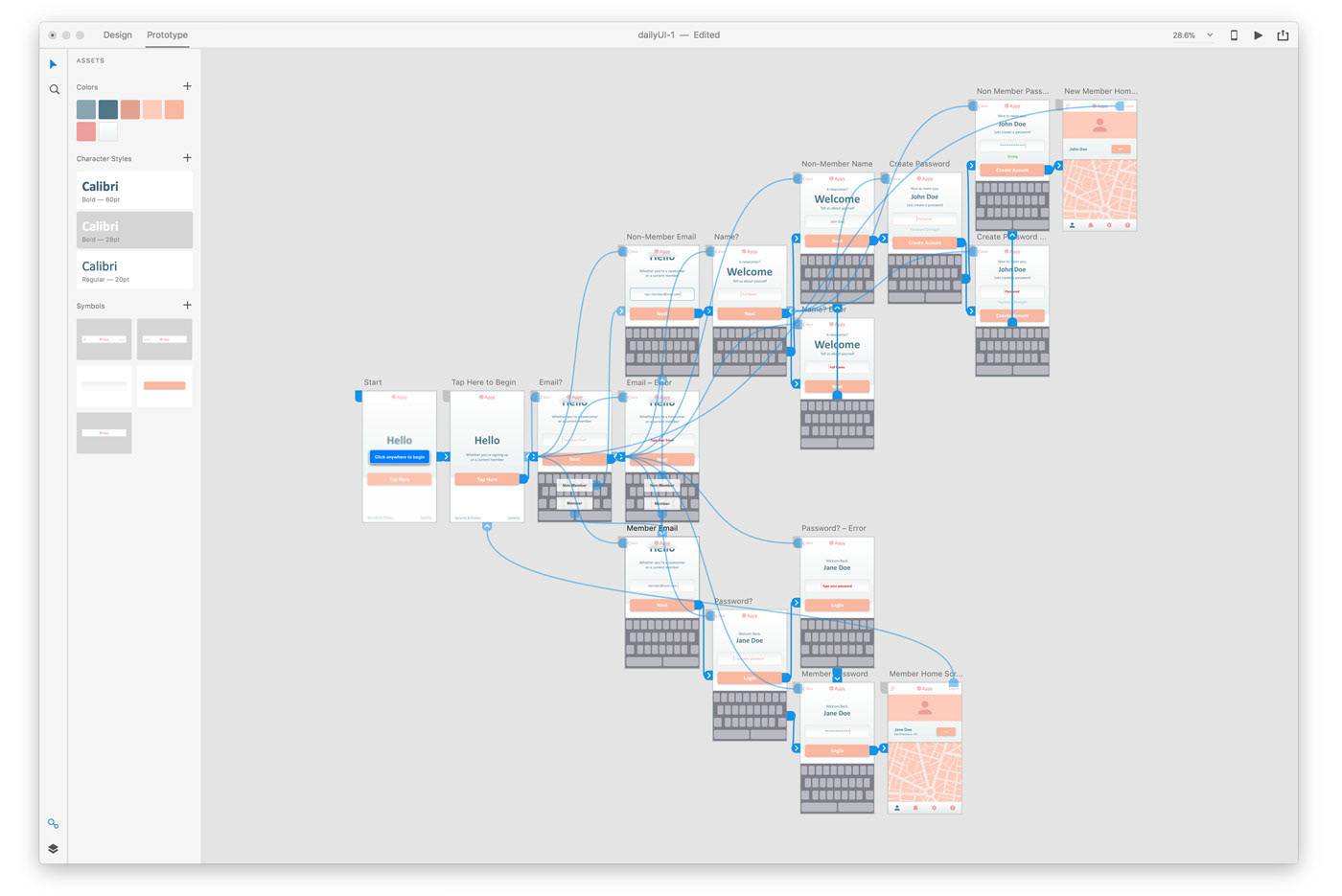 •  Very easy to pick up the workflow. 
•  Truly, rapid prototyping.
•  Repeat Grid plus Content Injection (whatever it's called).
•  Prototype wiring. It's intuitive and easy to keep track of your interaction regardless of complexity.
•  Uncluttered workspace.
•  Records users while testing the prototype.
•  New features are being released more frequently than any other Adobe product before it. 
•  No support for conditional logic (if, else, or).
•  Animations can be applied to the page only.
•  Sticky objects: Elements I don't want to move while the rest of the page animates into the frame.
•  It does not export any development assets (HTML, CSS, javascript).
•  No option to overlay the prototype in a select device (iPhone, Pixel2, Galaxy S8).
•  Not responsive or Adaptive.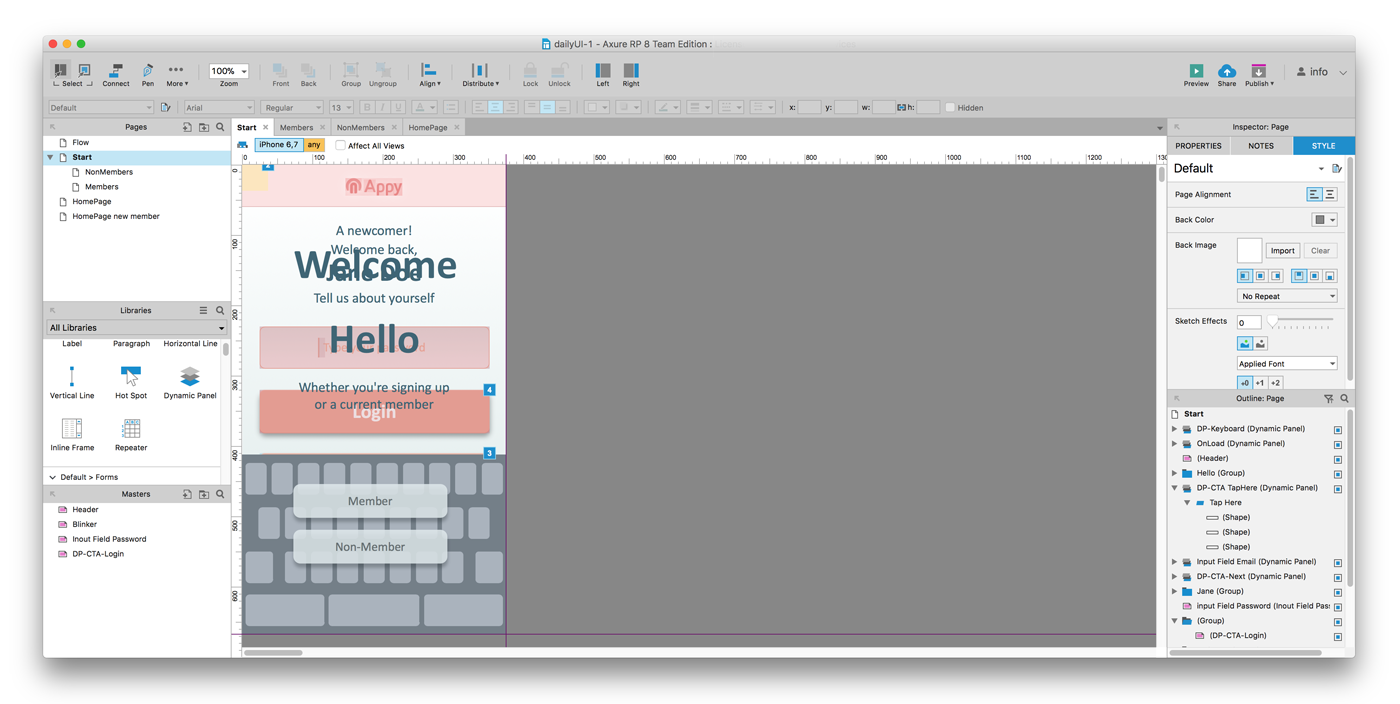 Axure RP is a beast. Its a full featured wireframing and prototyping tool thats capable of making prototype interactions as shallow or as deep as needed. 
•  Flow chart tools.

•  Event Handling (on Click, on Focus, on Load, etc.)

•  Component level animation.

•  Advanced Conditional Logic.

•  Export Html, CSS, Javascript. (not tested)

•  Adaptive breakpoint layout.
•  Artboard can get cluttered.

•  Nested conditions and animations make editing time consuming.

•  Adding complex conditions makes it annoying to make modifications.

•  Transitions between pages are not seamless due to page load. 

•  Not Responsive.

•  No option to overlay the prototype in a select device (ie. iPhone, Pixel2, Galaxy S8).
Both of these tools are incredible in their own right. If I had two hours to produce a working prototype with a simple User flow, I would use Adobe XD. If I was working on a complex application that requires purposeful animation, Axure RP, no question. Although Axure is holding most of the feature sets, the team at XD are consistently pushing updates on a monthly basis. We'll have to wait and see if Adobe can overtake the competition, but with the imminent launch of
inVision's Studio
, who knows?